Eppendorf Trade-In Program • POCD Scientific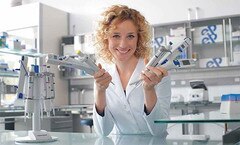 The POCD Scientific Eppendorf Trade-in/Trade-up program lets you trade-in in or trade-up any brand/any condition pipette for a new one.
A pipette being traded in or traded up must be like for like. For example, a single-channel pipette for a single-channel pipette, a multi-channel pipette for a multi-channel pipette, a dispenser for a dispenser. Full details are available on the flyer below, simply click the button to view or download.
If you have any further questions about how this promotion works please contact POCD Scientific on FREECALL 1800 640 075